---
Meridian Trigger points and Their Palpation
---
Standard Methods of Stimulation

Acupuncture points are commonly stimulated by several methods:
Using 30-, 32-, or 34-gauge, 1/2 to 1-1/2-inch stainless steel needles that are carefully inserted at specific preselected sites for durations ranging from a few seconds to 20 minutes or more.


Using electrical stimulation with any modality designed for this purpose.


Using a specially designed blunt instrument (teishin).


Using finger or thumb pressure.


Using a helium neon or infrared laser (controversial).


Using tiny beads sometimes called acupatches or acu-aids.
Other methods of stimulation include use of moxa (a herb that is burned near or on the skin), sparks from a hand-held device, and microcurrent stimulators, to name a few.

When low-volt electric modalities are used in stimulating acupoints, it is generally believed that a frequency of approximately 5 pulses per second (pps) is ideal for maximal endorphin release. The intensity of current, using a small diameter electrode, should be as high as the patient can comfortably tolerate. Stimulating the most painful trigger point contralateral to the patient's pain (eg, elbow) while the patient moves the involved part has been found effective in rapidly alleviating musculoskeletal pain.

In summary, when acupuncture sites are stimulated by means of low-volt electric current, several factors should be kept in mind:
The exact site of the point or of its contralateral partner must be stimulated.


A small diameter electrode must be used.


The correct frequency must be selected.


The correct duration must be determined.
It should be noted that many of these factors are also important when other methods are used.


Site Location

Acupuncture points are usually tender to the touch and located in palpable depressions under the skin. Although most pertinent sites are usually tender, there are many situations where a lack of normal tenderness at a site may also be diagnostic.

As previously described, recent evidence suggests that acupuncture works by means of an extravascular transport mechanism. This means that the points will be located at a certain depth below the skin surface. Some research studies indicate that stimulation primarily affects the nervi vasorum (autonomic fibers congruent with the blood vessels), and this further lends credence to inserting the needle to a specific depth.


Locating Points

Of prime importance in meridian/trigger point therapy are the proper palpation and localization of the acupoint. But first, a specific definition of a meridian point should be attempted.

Felix Mann states that in all diseases, physical or mental, tender areas are present at certain points on the surface of the body — points that disappear when the illness is cured. He calls these sites acupuncture points. In Chinese literature, we find descriptions of over a thousand of these points. The more common 365 points are located on certain fixed lines or pathways called meridians. It is our opinion that an acupuncture point is, in many instances, identical to the trigger point described by Travell or the concepts described by Matsumoto and Hiyodo in their writings.

In locating important acupoints for treatment and meridian dysfunction, one technique involves systemic palpation (ie, of alarm points) of the body at predetermined sites. These points will be described later in this chapter.

BACKGROUND

The palpating hands of the examiner contain sensitive nerve endings that are quite perceptive to changes in tissue tone, temperature, texture, surface humidity, etc. The fingertips are particularly well supplied with touch and pressure receptors, while the dorsal surface of the hand is especially endowed with heat receptors. For these reasons, both the fingertips and the back of the hand should be used during the evaluation procedure. As examiners gain experience in point location, they will find it increasingly easier to locate critical sites.

Acupoints will often be found that are spontaneously tender. For instance, a patient with appendicitis will point to McBurney's point as being exquisitely painful. Individuals with headaches often relate a spontaneously tender area on the nuchal line of the occiput. In other cases, areas will be painful only when pressure is applied. Many of the points above the ankles and in the hand and wrist belong to this category. A third type of acupoint is not tender even when moderate pressure is applied. Many acupuncture points are of this type.

PREPARATION

In searching for the acupuncture point, the patient must first be positioned in a comfortable position. The patient should be disrobed in such a fashion that the points are readily accessible to palpation. Care must be taken in all cases to preserve the modesty of the patient. As during the routine physical examination, it is generally best to have the patient undress and then robed in a gown that ties in the back. The waist band of the patient should be loosened for comfort and to afford free access to points of the lumbar, sacral, and lower abdominal areas.

Most examiners find it convenient to begin the examination with the patient seated on a low stool, and then transfer the patient to a comfortable cushioned table for examination in the prone and supine positions. Prior to searching for acupuncture points, the doctor should remove any jewelry that might scratch or irritate a patient. Personal hygiene, as always, is of utmost importance. The examiner's hands should be thoroughly washed before and after each examination.


TYPES AND CHARACTERISTICS OF ACUPUNCTURE POINTS

Several types of acupuncture points or lesions might be discovered:
Fibrositic nodules. Most commonly, the fibrositic nodule will be the point located. This area feels like a small node or mass of tissue several millimeters in diameter. It will be tender to pressure and often spontaneously painful. It is similar to the fibrositic rheumatoid nodules often located at the back of the neck, in the shoulders, or in the lumbar area.


Indurated areas. In many instances, a hard (indurated) area will be found. Instead of a nodule, the palpator might feel a localized area of tense muscle fibers in a muscle.


Atrophic areas. In other cases, the acupuncture point might be characterized as a localized swollen and discolored area or an atrophied area of tissue.


ELECTRIC ANALYSIS

The examiner might be unable to locate acupuncture points by palpation. In these cases, it may be of value to make use of one of the many electric devices available for their detection. These instruments measure skin resistance to an electric current, showing areas where the resistance is altered. Once a point is localized, whether manually or with an electric device, it should be carefully marked with a skin pencil or felt-tipped pen and then charted in the patient's records so that a comparison can be made from one visit to another.
In Japan, Nakatani mapped out areas of altered skin resistance into pathways that correlate with meridians. He treats the most altered points. This system is called Ryodoraku, [54] which, when translated, means good electroconduction system.

The fact that an acupuncture point exhibits altered electrical resistance allows an examiner to determine specific sites by using any instrument that measures (objectively with an ohmmeter or subjectively by the intensity of the sound made by an instrument) skin resistance at an isolated point. It is presently thought that sites that are reactive (ie, involved in a complaint), especially when we are dealing with a musculoskeletal complaint, are more conductive than surrounding tissue. These points are usually more tender and conduct current more readily (less resistance to an electric current). These points give a higher reading on an ohmmeter and produce a louder sound. Chinese physicians refer to these sites as ah shi (ouch) points; American physicians usually call them as trigger points.

If the correct site is chosen for stimulation, the most common reaction will be hyperemia (histamine reaction) around the point stimulated. Also noted, especially when needles are used, will be a sensation of tingling or numbness radiating or referred distally from the site stimulated. This sensation is called the deqi (also spelled tae chi). [55] A lack of hyperemia or deqi appears to correlate with poor results, thus indicating that the proper site was not treated.

In 1984, studies conducted by Y. M. Sin showed that acupuncture stimulation not only gave good symptomatic relief in inflammatory disease but also suppressed the underlying progress of the disease. [56]

The Human Inch

Besides palpation and measuring electrical resistance, charted acupuncture points can be located by using a topographic system of anatomical measurement. The unit of measure is called the human inch, tsun, or cun, and the system of measurement uses the patient's own anatomical proportions to establish the parameters to be used in (1) locating points and (2) determining the depth of needle insertion.

The human inch for a particular patient can be determined by measuring the distance between the patient's two joint creases of the volar surface of the middle phalanx of the middle finger when it is flexed. It can also be determined by measuring the width of the patient's thumb. Either hand can be used unless one thumb has been deformed by trauma or disease.

Once the human inch is known, various portions of the patient's body may be measured lengthwise or transversely and that measurement may be divided into a certain number of human inches. Because a human inch is a proportional measurement for a specific individual, the number of cuns on a body part (eg, a forearm or leg) is approximately the same whether the patient is young or old, tall or short, or lean or obese. [55] The only exception to this is where obvious growth, surgical, or pathologic asymmetries are present (eg, disproportionate limb-trunk dwarfism).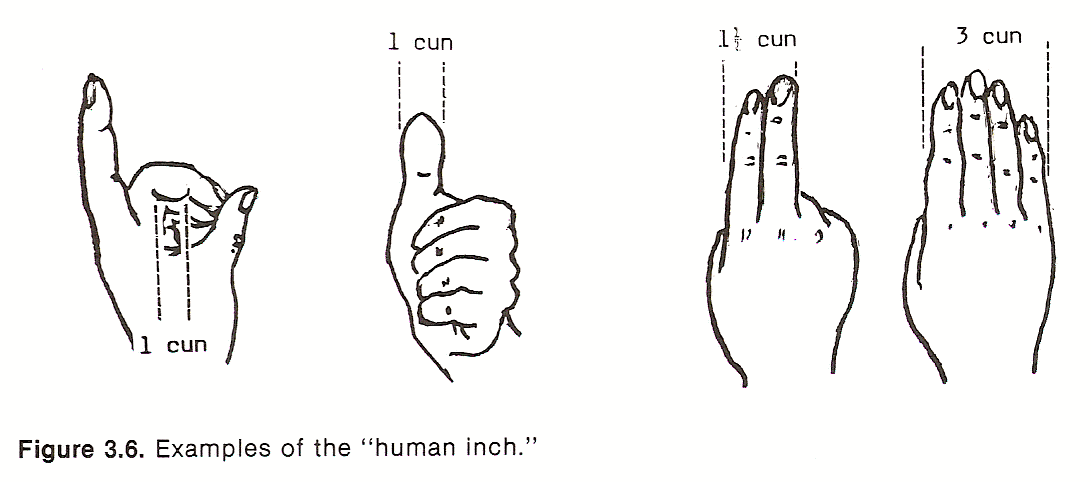 ---
Major Points: Locations, Primary Indications, and Precautions
---
As the result of millions of observations of patient responses over several centuries, Oriental physicians have charted over 300 major points on the body and have attributed certain related functions to these locations. As a general rule, however, it is thought that any localized point in an area of musculoskeletal pain can be stimulated to inhibit pain in that location.

In 1984, Peter Eckman, MD, PhD, developed a schematic model of the general effects of acupuncture. [57]

In the following sections, we will attempt to describe the most common sites of stimulation and the indications for treatment as cited by various authorities. We must state unequivocally, however, that little or no scientific verification has been done in the West to substantiate these projected effects. Thus, the reader is cautioned to use every possible diagnostic tool available necessary to evaluate the patient's complaints and to use this chapter as a reference to those sites used by Oriental physicians. The complete validity of the effects described must await further research substantiation.


---