FROM: Health Insights Today

by Daniel Redwood, DC
---
An Interview with Jeffrey A. Sklar, DC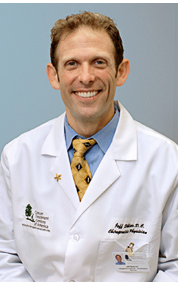 As part of our continuing series of interviews with chiropractors who work in integrative settings, we visit Jeffrey Sklar, DC, a full-time staff chiropractor with Cancer Treatment Centers of America (CTCA) in Philadelphia, Pennsylvania. Dr. Sklar, who previously co-founded an integrative wellness center, has been with CTCA since 2009.

In addition to his professional experience with oncology patients, Dr. Sklar has witnessed the struggle and success of cancer survivors in his personal life. His mother and brother are both cancer survivors. His stepmother is also a three-time survivor and former co-chair of the Susan G. Komen Race for the Cure in Philadelphia.

Sklar speaks highly of CTCA's whole-person approach to cancer care in which body, mind and spirit each play an important role. At CTCA, he says, "Every patient has an opportunity to collaborate with their oncologist and explore additional complementary therapies in conjunction with their conventional cancer treatments."


---
Please tell us about Cancer Treatment Centers of America, its origins and its mission.
After his mother died of bladder cancer, businessman Richard J Stephenson was disappointed with the quality of care and options that his mother received. To keep his mother's memory and spirit alive, Mr. Stephenson vowed to change the face of cancer care. He founded Cancer Treatment Centers of America (CTCA) in 1988.

Mr. Stephenson's goal in creating CTCA was to provide the very best traditional cancer treatments, along with complementary therapies to heal the whole person. Looking at chiropractic, for example, not as an alternative but as an adjunct to help people who are fighting cancer, to reduce pain and other symptoms and to maximize and optimize function. So can we eradicate cancer? That would be awesome. But if we can improve quality of life, extend life and put people into remission, that's the goal. Our goal is to get people back to the productive, quality lives they enjoyed before their cancer diagnosis.


From what you've seen, what are the benefits of a holistic, integrative approach to cancer?
Chemo-related neuropathy is one area where we've seen tremendous results among our patients. Neuropathy is a common side-effect of chemotherapy and many patients will even be forced to stop their treatment before they are able to actually benefit from it because of discomfort and painful side effects from the drugs. With our integrative approach, patients experience an improved quality of life so they are able to follow through with their treatment without interruption. This can improve and, in some cases, even extend their lives. It's pretty amazing. Right now, we're working on a research proposal for a study on this topic.


Most chiropractors see at least some patients with cancer but few DCs have a practice that consists mainly or solely of cancer patients. What's different about that in your experience?
As chiropractors, it is our obligation to find and fix vertebral subluxations, and using the safest and most effective means is crucial and paramount. So when a patient has cancer or progression of their disease, we need to know that.

When I was in private practice, I certainly saw patients who had cancer but, without being able to communicate with their oncologist and learn about specific medical concerns and possible contraindications, I often had to refer the patient out.

Traditionally, if someone came in [to my private practice] with a dysfunctional shoulder and we needed to do an adjustment, if I didn't know they had cancer and they didn't report it or were unaware of it, we might simply do an extremity adjustment. At CTCA, I'm lucky to be part of the patient's care team and have access to their medical records. So, before I see any patient, I look at their recent scans, recent blood work, platelet counts and any other notes from the rest of their care team. If there's something in the humeral head, I'm not going to adjust that extremity. If there's any type of thrombosis, we're not going to be adjusting it. So, having the arsenal of different techniques available to the chiropractor and having the most recent diagnostic information, is really crucial.


Would you say that you are seeing more people with early stages or late stages of cancer?
At CTCA, we see patients with all different cancer types and stages. However, we do see many patients with advanced cancers.


Is there a difference in the conventional care offered as part of the integrative care at CTCA, or is it something else? How does this happen?
I think it's a combination of things. We have some brilliant oncologists and we have cutting-edge innovation in terms of conventional therapy. I attribute our survival rate to the fact that everything is patient-focused. Everything is based on, "What can we do to make another day better for a patient?" So when I talk about integrative medicine, I'm talking about an oncologist who meets every morning with his staff. Each oncology team will have a naturopathic doctor, dietitian, chiropractor, a massage therapist, an acupuncturist, and a mind-body medicine specialist, among others. I attribute our results to the fact that people are being treated, not just their cancer.


How is it determined which patients receive chiropractic care or massage or acupuncture or mindfulness based stress reduction?
The model CTCA has pioneered is called Patient Empowered Care. Each Patient Empowered Care team consists of a medical oncologist, nutritionist, nurse, naturopathic doctor and a care manager. After the patient meets with their entire care team, their medical oncologist proposes a treatment plan that may involve taking advantage of chiropractic services, in addition to their traditional cancer treatment. Of course, a patient can also request an appointment with me, as well. Then I work with their care team to determine the most appropriate course of action. As long as there is no contraindication for a certain type of therapy, they can choose any therapy they would like. Again, I'm not going to be adjusting a bone that is metastatic. I do treat people with headaches that are induced by chemotherapy; they may have a sacral metastasis but there's no contraindication to a cervical adjustment, for example.


Could you tell us more about the interprofessional relationships at CTCA?
Here's an example. I will get a call from the surgical oncologist the day before a patient's surgery saying, "Hey, Jeff, could you adjust Mary today before her surgery tomorrow?" In terms of the relationships I have with the other practitioners, I'm treated as an equal. Also, I actually treat a lot of the medical staff here for the kinds of typical issues we would see out in the field. When it comes to being part of a team, I am fully integrated. I will get calls to do rounds on the hospital floor if there are patients experiencing any musculoskeletal conditions within my scope of practice.


Are you full-time at CTCA? And how many other chiropractors are involved in this organization?
Yes, I work at CTCA full-time and am currently the only full-time chiropractor. We have a national director, Dr. James Rosenberg, who also has a private practice in Chicago. Our Tulsa hospital has three chiropractors, all of whom also have private practices. There is one part-time chiropractor at our hospital in Phoenix.


What's your typical workday like?
In the morning, I will see some patients early and then join one of the oncology teams where we'll talk about the patients who are coming in that day. I see patients until about 4 pm. I use techniques ranging from drop techniques and Activator to soft tissue work and PNF-type stretching. Also, an important part of what I do here is just listening to patients. One of the things that makes it a real blessing to work at CTCA is that I can take my time with my patients. Many patients don't move as fast as they once did, so things are not fast-paced here. I have the liberty of taking as much time as I need with each patient.


Do you feel that there's something about this modulated pace that's healing in itself?
Absolutely. In general, when people are able to relax and don't feel any sense of haste, but feel they are the only person in that practitioner's room, they are able to take a more active role in their care. No matter what is going on in my outside life, I remind myself to set an intention every morning. To ask myself, "Why am I a chiropractor?" The most important thing is that I am present in the room for that patient, so they don't feel like there's anything more important than them while they're on my table. And you probably know from practicing that life is going on in our heads but we just have to turn it off. The more I have practiced this over the years, the easier it's become.


What kinds of experiences or personality traits would make a chiropractor the right fit for working at CTCA?
In terms of the right fit for the culture at CTCA, first of all we look for someone who has been in the field for more than five years. Chiropractors, in general, are a wonderful fit for CTCA because of their compassion and their ability to really sympathize and empathize with patients. I would say we look for someone who is a good listener, good with their hands, in terms of their practice, and loves what they do, so they will never tire of it. I can't see myself retiring. This work is just incredibly rewarding and I wake up every day looking forward to coming in.


---
Daniel Redwood, DC, the interviewer, is a Professor at Cleveland Chiropractic College–Kansas City. He is the Editor-in-Chief of Health Insights Today and The Daily HIT, and serves on the editorial boards of the Journal of the American Chiropractic Association, Journal of Alternative and Complementary Medicine, and Topics in Integrative Healthcare.