PMC full text:

Copyright

(c) 2019 The authors; licensee World Health Organization.

This is an open access article distributed under the terms of the Creative Commons Attribution IGO License (

http://creativecommons.org/licenses/by/3.0/igo/legalcode

), which permits unrestricted use, distribution, and reproduction in any medium, provided the original work is properly cited. In any reproduction of this article there should not be any suggestion that WHO or this article endorse any specific organization or products. The use of the WHO logo is not permitted. This notice should be preserved along with the article's original URL.
Fig. 1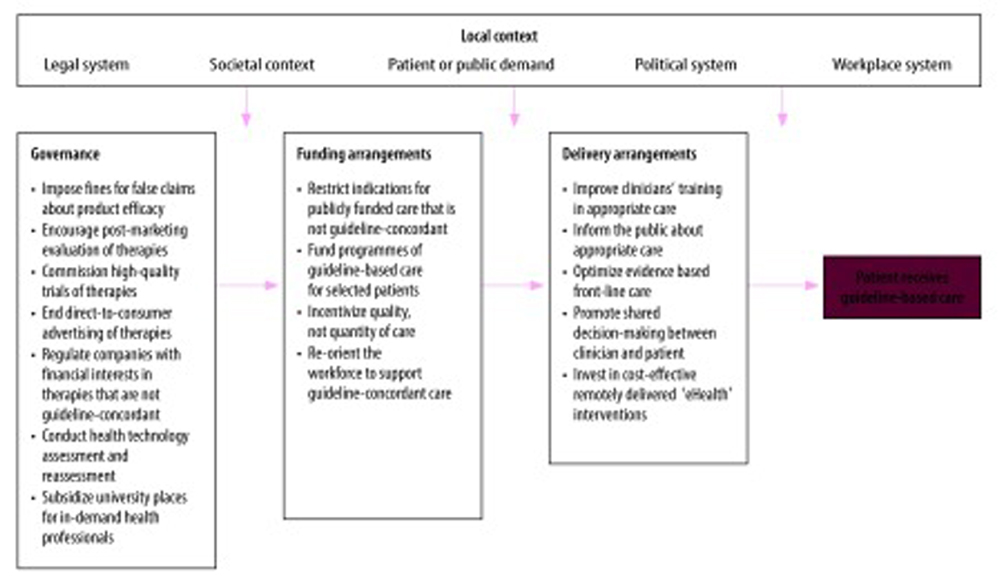 Health system levers to increase concordance with guidelines for care of low back pain
Notes: The boxes are arranged, from left to right, in order of health policy level: governance refers to the highest policy level, followed by funding arrangements, then delivery arrangements. The arrows indicate that policies at one level can have downstream effects on other levels, ultimately influencing the likelihood that a patient receives guideline-based care. Some policies in this example will be easier to implement than others, depending on local context. Local context factors that are external to, but interact with, components of the health system, are likely to influence delivery of guideline-concordant care.