Meet "The Doc on The Block"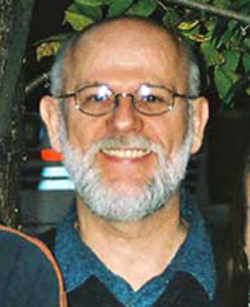 Frank M. Painter, D.C. is a graduate of Palmer College of Chiropractic, the first and finest chiropractic school. Dr. Painter specializes in the Pierce Results System, an advanced chiropractic technique system, which utilizes computerized thermography for pattern analysis, and motion x-rays to determine the location of motion irregularities, or what we call subluxations of the spine.

Dr. Painter completed a 3-year postgraduate program in rehabilitation, leading to Diplomate status, and because of his specialty training in rehabilitation, he can work as effectively with post-surgical patients as most chiropractors can with spine-related disorders.

The emphasis in our office is for "active care" rehab protocols, which help our patients get back to work and to enjoying their lives as quickly as possible.

Dr. Painter is also trained in a wide variety of soft-tissue manipulation techniques, and several different "extremity" adjusting techniques (elbow, shoulder, knee and ankle). These can be very effective for many types of extremity complaints. We also utilize a spectrum of advanced diagnostic techniques to achieve the best results for all our patients.

We also provide needle-less acupuncture, incorporating Electro Meridian Imaging for a complete analysis. Acupuncture is one of the most researched forms of alternative (or complementary) care, and it is quite successful with a wide variety of complaints.

Our office also offers nutritional consultations to help you speed your recovery, to reduce inflammation, and to strengthen your immune system. Our office only recommends Shaklee supplements, because of the remarkable quality, integrity of design and delivery, and the scientific research which inspired their creation.

---

Dr. Painter graduated from Palmer College of Chiropractic in 1993, with Research Honors for his participation in 3 different research projects. He was also honored with the "Doctor-of-the-Year" award, from the Palmer College Research Department, at the 1997 Centennial of Education Homecoming in Davenport, IA. That plaque hangs proudly in his adjusting room.

Over the years, Dr. Painter has provided community service through a number of organizations: he served a 4 year term as a member of the Lyons Township High School Community Advisory Council (LTCAC). In his second year, he was elected as the Advisory Council Secretary and as chairman for the council's Publicity Committee. In his last year on the Council he was elected Co-Chair.

Dr. Painter has also been an active volunteer in the local school districts. He has served as Legislative Council representative for Congress Park School, and was a teacher's assistant for their Math Club for 2 years, and also directed their Variety Shows.

He also helped manage the sound system for the Ogden School's Variety Show, and provided stage management and construction support for events at Park Junior High School.

He also taught well-attended classes at the Lyons Township High School's Adult and Continuing Education Department.

Dr. Painter has been a volunteer webmaster for the LINKS section of Chiro.Org since 1996,
the world's largest, and most-visited non-commercial chiropractic website.

He also maintains several other sections, including:
Nutrition,
Acupuncture,
Chiropractic Research,
Chiropractic Pediatrics,
Alternative Medicine,
Chiropractic Case Studies,
Clinical Documentation, and
Radiology.
Dr. Painter was elected to the managing Board of Chiro.Org (The Chiropractic Resource Organization) in 2001, and was elected as President of the Board in 2004, and has been unanimously re-elected as President every year since that time. He also managed the website's sponsorship for 5 years.

Dr. Painter is committed to chiropractic research, continuing education, and continual refining of his skills, so that he may provide the best care for his patients.

If your neck or low back is "going out" more often than you are,
you will definitely benefit from meeting "The Doc on The Block"
Alternative Care
Chiropractic Center

309 Bluff Avenue, # 1W


La Grange, IL 60525

(708) 352-8237

Since 8-01-1999

Updated 2-02-2022